SCULPTURE & INSTALLATION
Passing I
Featured in Interior Design Magazine: The Naturals, vol 78, June 2007.
Collection of Calvin Tsao, Tsao-McKown Architects.
Wind sweeps tracks on the earth. The snow melts, and saplings grow. So much happens in the silence of life. I walk on my swept tracks, retracing the long paths and familiar explorations. I imprint the grass where you walked two steps in front, as shadows trail my departed patterns. The past is embedded beneath my feet, concrete and permanent.
The journey is my impermanent home. I bring the essentials, to leave behind what I cannot bear. What I carry is my home, my temple, my everything.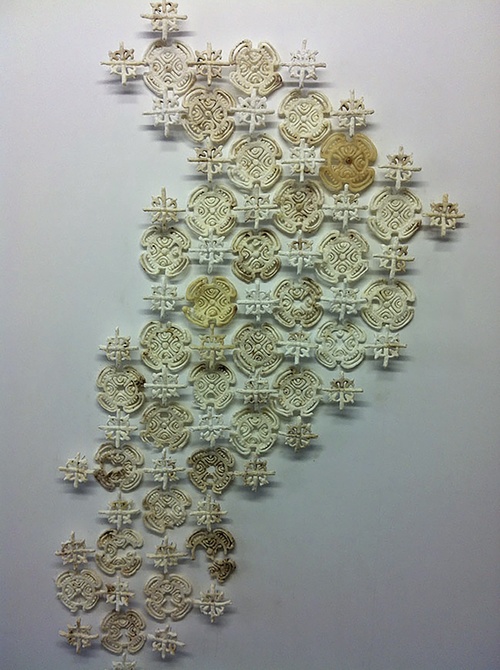 Making of the MetaLoom by Weaving Hand & Textile Arts Center
MetaLoom was conceived in the spirit of collaboration and the convergence of weaving and architecture. The project was a collaboration with Designer and Architect Gerard Nadeau, and Weaving Hand Studio in Brooklyn, NY. The piece was installed at the Creative Block exhibition at Webster Hall in NYC as part of the 2009 Oble Awards.
COSTUME & GARMENT
Sogno Di Una Notte Di Mezza Estate
The world premiere of Sogno di una Notte di Mezza Estate is an original Italian opera production, based upon William Shakespeare's comedy, " A Midsummer Night's Dream". As Costume Designer and Leading Instructor, I supervised and worked with a group of art and design students on the construction of nearly 25 custom-dyed and fabricated costumes and performance objects.
Working with the students and architect, Nandini Bagchee, we also designed and fabricated a light weight collapsible stage set that along with the costumes and objects, was transported to Citta della Pieve and Orvieto, Italy, for the performance.
Sogno di una Notte di Mezza Estate was directed and performed by the International Opera Theatre Company in Philadelphia.
An interdisciplinary adaptation of Heinrich Hoffman's children stories, VioLens was produced by by Visionintoart (VIA) at PS 122 in New York.
"[Hoffman's] 19th century morality lessons are taken to the stage, melding theater, chamber music, and movement into an evening-length work that questions society's perceptions of morality, violence and family.

VioLens explores the mutation of three fictitious children's tales and their real life counterparts. It manipulates the disturbing effects of misbehavior into symbolic action. The selected stories focus on themes of fire, food and racism, and pull the audience towards the threshold of humor and horror."
— Visionintoart
Photo Credits: Jill Steinberg & Peter Gannushkin
Original wedding dress designed and created for client, Missy Globerman-Dawson.
The earth inhales, the body exhales. The body inhales, the earth exhales. Branches tap each other, accompanying the breeze. The earth is in constant syncopation, flowing in pattern, rhythm, and breath. When I move, my breath becomes the conductor. I become the instrument, costumed in grasses and reeds.
I walked past the trees, they swayed. I looked at my bare feet that you lay beneath. Quivering, I looked at the trees. You swayed, my body swayed. I breathed to its rhythm, my breath deepened.